Or should that be 'virtual classrooms'? Everyone talks about 'webinars', although just calling them that hardly does justice to the interactive nature of the learning experience. But for want of a snappier word, 'webinars' it is.
Our approach to 'webinars' creates genuine learning experiences for the participants. Our sessions give them the opportunity through discussion, case studies, practical role-plays, interactive 'chat' and whiteboard activities to experience a unique, targeted development opportunity.
Participants are able to explore key models and concepts, discuss them in relation to their individual situations and plan for the application of these techniques in the workplace. And there's usually an opportunity to experience or role-play the new behaviours.
In addition, we often include extra resources at the end of the session which participants can use to refresh their memories and embed learning following the training. Sometimes, there's 'pre and post' work.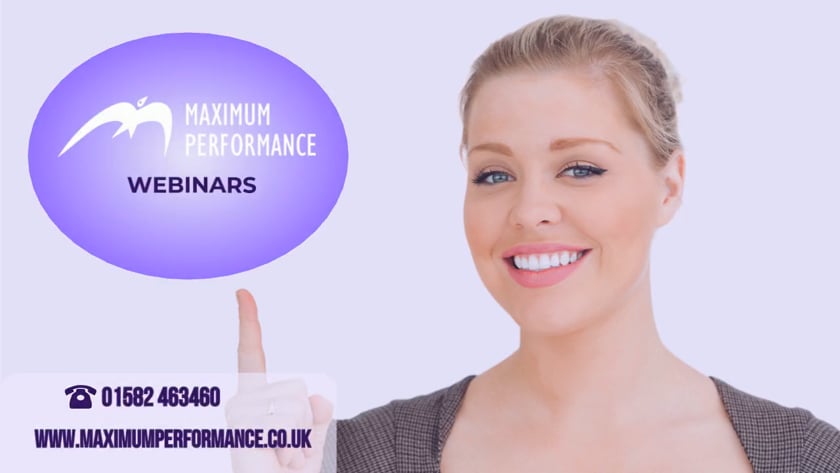 Sometimes the sessions are stand-alone, sometimes a mini-series of two or three and sometimes an entire structured programme. The approach varies according to the subject and, of course, to individual client requirements.
We've designed our open webinar sessions to run on the world's most popular platform, Zoom. We've never had a problem with Zoom and neither have any of our clients, and Zoom themselves are constantly updating their security advice and features, but if you've got any concerns just follow these eight top tips. Of course, on an in-house basis, clients often need us to use their preferred platform, so that's fine too, whether it's Teams, Webex, Adobe Connect, whatever.
We're sometimes asked about accessibility, so here's our approach.
Most of our sessions are bespoke, for individual clients, but here's a selection of ones we prepared earlier to help inspire you:
Hybrid and home working series
These sessions have been phenomenally popular as open events. They're also available for in-house delivery, tailored to your specific requirements:
Time and priorities when WFH
A 90-minute webinar
Most people find it harder to maintain focus on work priorities when working from home.
Although we might have fewer interruptions from colleagues, the greater danger lies in domestic temptations, distractions and interruptions. This is especially true when partners, children and elderly relatives share your home.
This webinar will help you explore how best to manage the time you have when working remotely. It will offer different approaches to planning your work with all the additional pressures and anxieties you face in the current situation.  Working more effectively, by structuring your day around peak energy and personal demands, can stop you feeling overwhelmed. It's also important to know how to maintain a healthy work / life balance. This means being confident and assertive when saying 'no' to unrealistic requests that trespass upon your personal time.
Wellbeing when WFH
A 60-minute webinar
Work and wellbeing are even more closely related than usual when we're working from home.
So, as we move through a different phase of working from home, we need to look after our whole wellbeing – the 'wheel of life'. This means looking at the emotional, social, psychological, physical, financial and spiritual, as well as work, aspects.
Where are the 'dents' in your wheel? (We all have them!) How can you 'punch them out'? You need the right tools for the job. But you also need the right approach, the right frame of mind.
This 60-minute 'virtual classroom' session will help you tackle the challenge. It's an opportunity to step back, think about your current state of overall wellbeing, think about how you think about these issues, prioritise development areas, and identify tools and strategies that will help improve your wellbeing and your resilience to the challenges we all face when working from home.
Working from home
A 90-minute webinar
As the trend in flexible working increases, more people will be working at home, remote from their colleagues and line manager.
This interactive webinar aims to help anybody who is new to this concept, or anyone who would just like to tap into some of the best practice available. These techniques are based upon the real experiences of those who have been working remotely and have developed a range of methods and tactics to optimise this way of working.
You will identify what you need to do differently to maintain productivity and create a working environment that works for you. You will discover ways to actively engage with your team and manager through different forms of communication, building trust, and agreeing clear expectations. You will leave the session with practical tools and techniques that will enable you to be more confident when working from home, and at the same time building trust with your line manager.
Wellbeing and resilience series
Building on our hugely popular 'Hybrid and home working' series, the wellbeing and resilience sessions follow our unique 'flexinar' format – flexible webinars that can be delivered in whatever configuration suits you best. Full details here.
The remote manager series
Another flexible series – bite-sized 'pick 'n' mix' sessions designed specifically for line managers who need to adapt to new ways of working. Full details here.
Management development series
Our very popular management development programme normally runs on a classroom basis as seventeen half-day modules, two modules a day, over eight or nine months. Full details here. It's now also available as a series of seventeen 90-minute webinars and is currently being delivered on that basis in English and in various European languages. To discuss how that might work for you, give us a call on 01582 463460. We're here to help – and not just in English!
Leadership development series
Our Inspiring Leader programme normally runs on a classroom basis as four two-day modules, typically over seven months, interspersed with one-to-one coaching sessions. Full details here. We're delivering it now on a virtual classroom basis, with facilitated action learning sets as well. It's a flexible format that can be adjusted to suit the needs of a specific group. To talk through how that might work for you, give us a call on 01582 463460.
Public service organisations need shorter sessions, delivered virtually, often bespoke but without a budget for learning design. We've developed a unique range of flexible webinars – 'flexinars' – designed specifically to rise to the challenge. You choose the topics and the length of the session and we do the rest. Outstanding value for money! Full details here.
Cultural intelligence series
Our unique range of 90-minute virtual classroom sessions focuses on the practical aspects of cultural difference. An introductory session on 'Understanding cultural difference' (and an optional session on 'Managing global teams') is followed by a series of 'deep dives' focused on developing cultural intelligence for giving effective feedback, communication styles, building relationships, etc, etc. 'Focus' sessions put the spotlight on specific work cultures – France, Italy, etc. Full details here.
Time & priority management
A 45-minute webinar
We're all faced with more competing demands on our time than ever before. But do we even know where our time goes? Knowing how we spend it is the first step towards being able to control how we spend it. What non-essential activities can you drop? If there are things you can't drop, how can you manage them better? How can you be more intentional about how you run your day?
This is an opportunity to explore different approaches to time and priority management. How can you make your life easier by using the compass, not the clock?
Management and personal effectiveness series
Many of these sessions are currently being run on a global basis, in different languages:
Virtual performance conversations (using actors)
A 90-minute webinar
This virtual session builds managers' skills and confidence in holding one-to-one conversations remotely with their staff.
The session is highly experiential – managers work together to build learning across a range of potentially challenging types of conversation.
The conversations are brought to life through the use of actors, who bring realism to the scenarios and give 'in the moment' feedback to participants.
Everyone gets a turn practising their skills, getting feedback from the actor and from their peers, and giving feedback in their turn. It's a collaborative, supportive, interactive session – with real impact.
Your impact on others
A 90-minute webinar
Being technically good at your job isn't enough – good people skills are also essential. Whatever your profession and role, you need to be able to connect with others, present ideas assertively and build strong, lasting relationships. This practical session will cover self-awareness and how participants can develop their ability to make a positive impact, whatever the situation. They will discover how to avoid fading into the background, how to raise their profile and how to present ideas powerfully to internal stakeholders and managers.
We can, of course, tailor any of these webinars to your precise requirements or we can design a programme from scratch. Just give us a call today on 01582 463460.