The Maximum Coaching Certified Coach Education Programme
Take your coaching to the next level with our tried-and-tested programme
This very popular programme prepares you for the International Coaching Federation's Associate Certified Coach (ACC) credential.
Not only does it meet the ICF's requirement for 60 hours of coach specific training but it also includes the necessary ten hours of Mentor Coaching. And, uniquely to our programme, it gives you the opportunity to get the ILM Level 7 Certificate in Coaching and Mentoring as well, by way of an optional 'top-up'.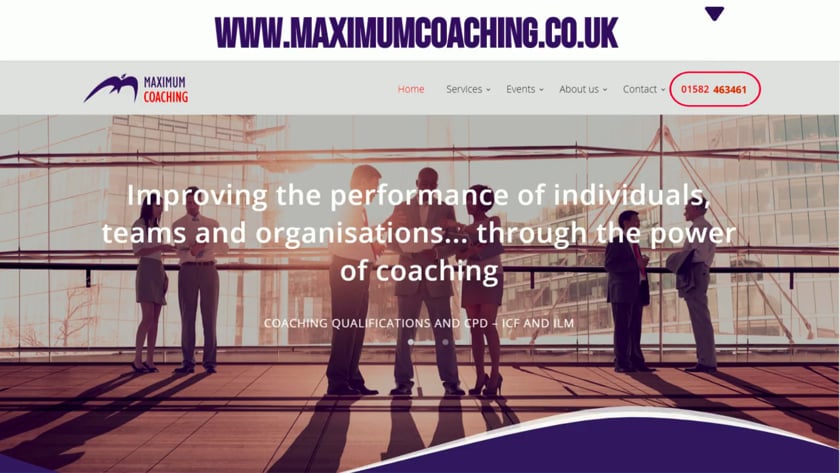 Format: A series of five, 2-day modules, with 4 group Mentor Coaching webinars plus 3 hours of one-to-one support.
Delivery options: The open programme is held twice a year (Autumn 2022 will be entirely virtual; also available on an in-house basis).
Make a booking: Download the booking form for the Autumn 2022 intake.
The programme
FORMAT
Each module contains a minimum of two coaching skills practice sessions where you will take the role of coach, client and observer. You'll have ample opportunity to observe coaching in action, practice and get feedback on your use of these skills. These sessions are observed by credentialled coaches and this feedback enables you to benchmark your progress in demonstrating the required level of competence at ACC level.
Self-directed study takes place with fellow participants, and you are advised to keep a learning journal. These activities provide the chance for additional coaching skills practice, reflection and peer feedback.
Participants will also receive a copy each of The Essential ICF Guide by Jonathan Passmore and Tracy Sinclair.
MODULE 1: STARTING THE COACHING JOURNEY
Establishing the coaching relationship and introducing a range of coaching models, skills and techniques that encompass the ICF competencies:
Develop a clear understanding of what coaching is and how it differs from other developmental approaches
Explore different approaches and the core conditions for coaching
Understand the ICF Competency Model and how this underpins this training
Identify the key elements of contracting for the coaching process and in individual sessions
Enhance key coaching skills including listening and powerful questions and explore different tools that create insight and learning.
Have applied a coaching framework and key competencies to coaching conversations
Deliver constructive feedback that allows peers to build on their strengths and recognise areas for development
Have the confidence and foundation skills to start a coaching relationship
MODULE 2: DEVELOPING AS A COACH
Building coaching competence and awareness of coaching style. Using principles of neuroscience to coach effectively using a solution focused approach. Creating a safe coaching space. Learn how to challenge with integrity using a range of coaching 'tools' including use of intuition:
Creating trust and safety in the relationship
Explore how are brains work and implications for coaching using a solution focused approach
Understand the impact of different intervention styles and own personal preference
Develop ability to challenge with integrity
Develop your repertoire of coaching interventions and tools
Have applied a coaching framework and key competencies to coaching conversations
MODULE 3: BUILDING YOUR PRESENCE AND PROFESSIONALISM AS A COACH
Explore the ICF's ethical guidelines and professional standards and impact of personal standards and boundaries on the coach, client and coaching relationship. Building a coaching mindset and coaching presence. Exploring who you are as a coach:
Explore potential ethical dilemmas and develop strategies to deal with them in line with the ICF ethical guidelines
Recognise the importance of strong personal standards and boundaries
Develop a coaching mindset. Reflection on practice: group supervision
Improve your ability to be fully present and choose the most effective intervention in the moment.
Develop confidence when dealing with strong emotions without becoming enmeshed
Benchmark against ACC standards identifying strengths and development areas from self- reflection, learning journals, feedback to date and observed coaching practice
Recognising who you are as a coach – your signature presence
An individual mid-term review will be scheduled following this module.
MODULE 4: GOING DEEPER AS A COACH
Supporting our clients to achieve transformational and sustainable change. The importance of working with their 'inner world,' using values in our coaching, challenging assumptions, limiting beliefs and behaviours. Working with clients through change.
How to identify and using values in coaching
Understand the relationship between behaviour, beliefs and our thinking
Learn how to support clients explore assumptions and challenge unhelpful thinking patterns and beliefs.
Recognise the emotional impact of change, assessing readiness for change and supporting clients through transition.
Increase your range of coaching interventions and tools with creative coaching techniques.
Have applied a coaching framework and key competencies to coaching conversations
Building awareness of who you are as a coach
MODULE 5: VALIDATION SESSION AND YOUR ONGOING JOURNEY AS A COACH
This session will be a benchmarking exercise. It will be an opportunity to demonstrate evidence of the ICF core competencies against ACC criteria in a live coaching session. Your feedback report from this day will provide a foundation for a development plan to support your ongoing journey:
What good looks like at ACC
Assessing a coaching session
Demonstrating sufficient evidence
The Validation process
Celebrating and recognising your journey so far
Next steps on your coaching journey
Mentor Coaching and supervision
Endorsing and review
Reflections and close
A minimum of 15 hours coaching with at least two volunteer clients (we can help you find clients if you can't find your own)
GROUP MENTOR COACHING
Four 2-hour webinars (held one and two months after module 5) – to prepare you for the ICF's Coach Knowledge Assessment multiple-choice test
ONE-TO-ONE MENTOR COACHING
Three one-hour sessions with an ICF Mentor Coach (or, if you prefer, two 90-minute sessions)
Virtual sessions (by phone or Zoom)
Arranged individually (best held within six months after module 5)
PROGRAMME DIRECTOR
Rosanne Bernard PCC is an experienced coach, trainer and facilitator with substantial experience gained across the public, private and VCSE sectors. She has many years' experience coaching managers within organisations at all levels and also delivers coach training programmes, such as our ICF Certified Coach Education Programme and our non-accredited training programmes on coaching skills for line managers.
One of our most experienced and popular trainers, Rosanne is particularly well qualified to deliver this programme, having been through it herself. Rosanne delivers all of the programme modules.
MENTOR COACH
Elizabeth Crosse MCC runs the one-to-one and group Mentor Coaching sessions, and leads the skills benchmarking exercise during Module 5.
She is our Coaching Practice Director and delivers professional coaching, internal coach training, mentoring and supervision programmes. She is an experienced professional coach (one of only a handful of Master Certified Coaches in the UK) and a qualified coach supervisor with over 25 years of expertise in learning, facilitating and training in the UK and abroad. She has delivered more than 10,000 hours of one-to-one and team coaching and more than 5,000 hours of coach training and supervision.
ILM 'TOP UP' COACH
Charlie Warshawski is a leadership trainer and coach, specialising in supporting organisational, team and individual change. He is a member of the Institute of Leadership and Management and a Member of the International Coach Federation.
He offers 25 years of leadership and training experience, with a background that spans the commercial, education and voluntary sectors. He has worked in the UK, Europe and South America and can work in French and Spanish as well as English.
Clients create sustainable change as a result of his rigorous processes, respectful challenges and empathetic support. Charlie has worked with a wide range of people, including senior managers, students, front-line staff, entrepreneurs – both in-house and as an external resource.
ASSESSORS AND OBSERVERS
We use a team of independent assessors and observers to support the skill practice sessions and the benchmarking exercise during module 4. They have all been through the programme themselves and now assess new programme participants.
ADDITIONAL FACULTY MEMBERS
Sara Barrie PCC is an award-winning executive coach, consultant and leadership facilitator accredited by the International Coach Federation (ICF), the Academy of Executive Coaching (AoEC) and Time to Think.
Based in Manchester, Sara's clients include Associated British Foods, Accenture, American Express, Ashurst LLP, Barclays Bank, BT, Carphone Warehouse, Co-operative Group, Countryside, DWF, Dynamic Action, Electricity North West, Eon, East Sussex County Council, Freshfields, Fresenius, GE, GlaxoSmithKline, Kellogg's, Knightstone Housing Association, Magna Housing, Lloyds of London, Liverpool John Lennon Airport, Manchester Airport Group, Ombudsman Services, NatWest, Sainsburys, Siemens, Vodafone, etc, etc.
Mythily Bhageerutty PCC is a highly skilled coach, trainer of coaches, facilitator and mediator. In the last ten years she has worked in government as a Senior Advisor in Strategy, a Private Secretary to the Minister of Criminal Justice, and a Leadership Coach to Senior Management and Board. Unusually, her client list has a twin focus – on housing associations and on investment banking.
Based in London, her areas of expertise include: establishing and co-ordinating the support structure of a coaching culture; leadership coaching at CEO, director and senior manager level; coaching training and development; facilitation and action learning sets.
Gerard Hennessey is a vastly experienced learning & development professional, psychotherapist and coach, with over thirty years of leading organisational change and learning & development initiatives in both the Civil Service and  Public Sector. Since leaving the Civil Service in 2013, Gerard has run his own learning & development consultancy, working across a large number of public, private and voluntary sector organisations. He is an avid researcher who regularly participates in, and contributes to, projects focusing on all aspects of organisational development, coaching initiatives, human psychology and change leadership.
Clare Withycombe PCC is an experienced executive coach, leadership development facilitator and coach trainer. Clare first qualified as a coach in 2002 and has delivered over 3000 hours coaching to several hundred clients internationally. She has an operational background in international cultural relations where she held leadership roles in the Middle East and Africa regions. Now based in London, Clare's focus is leadership coaching at Board, Director and Senior Manager level along with coach training and group facilitation. Her clients include international telecoms, financial institutions, UK Cabinet Office, creative industries, NGOs, housing associations and  leading universities.
Dates & fees
Autumn 2022 INTAKE (virtual)
Welcome session: 6 Oct 2022 (5:00pm-6:00pm)
Module 1: 19-20 Oct 2022
Module 2: 23-24 Nov 2022
Module 3: 14-15 Dec 2022
Module 4: 25-26 Jan 2023
Module 5: 22-23 Feb 2023
Group Mentor Coaching
Group Mentor Coaching (webinar) 1: 23 Mar 2023, 10:00am-12:00pm
Group Mentor Coaching (webinar) 2: 20 Apr 2023, 10:00am-12:00pm
Group Mentor Coaching (webinar) 3: 18 May 2023, 10:00am-12:00pm
Group Mentor Coaching (webinar) 4: 21 June 2023, 10:00am-12:00pm
LOCATION AND TIMINGS
The module timings are 9.00am to 12.15pm and 1.15pm to 4.45pm, with suitable breaks am and pm.
The welcome session will be 5:00pm-6:00pm.
FEES
'Early bird' rate = £2,995 + VAT (for bookings received by 19 August 2022 for the Autumn intake).
Full rate = £3,995 + VAT
Plus (optional) £795 + the ILM candidate fee of £193 + VAT for the ILM Level 7 qualification. (This can be booked at any time).
We offer flexible payment plans for self-funded candidates. Please call for details.
HOW TO BOOK
Please complete and return the booking form and we'll send you an invoice or VAT receipt as appropriate:
ANY QUESTIONS?
Just give us a call on 01582 463461. We're here to help!
The in-house option
We also run this programme on an in-house basis – the ideal option if you've got a group of 6 or more people seeking the ACC credential.
The programme follows the same ICF-approved syllabus, although we can adjust the tone, the content and the delivery format to meet any specific requirements you may have. This makes it suitable for the wide range of organisations for whom we have delivered it on this basis, from local authorities to investment banks.
To complement an in-house programme we can also:
Help you set up coaching circles to support the skills development of the participants between coaching modules
Develop a set of internal coaching standards and ethics (based on ICF requirements) that are fit for purpose in your organisation
Train participants in obtaining and giving quality feedback to each other
Provide a certificate of recognition for previous training which 'maps' the course content of previous coach training against the ICF core competencies and which can be used as part of the training portfolio
Provide advice and support on establishing or developing an internal coaching cadre
Provide evaluation of the impact of the training and work with you to evaluate your return on investment
To explore this option, call us now on 01582 463461.
ICF FAQs
The most frequent questions are around the ICF credentialing process.
Here's what the ICF say on their website, with comments from us in italics:
YOUR CHOSEN PATHWAY
There are three pathways towards achieving the ICF's Associate Certified Coach (ACC) credential. Doing the Maximum Coaching programme puts you on the ACC ACSTH pathway, for which the ICF specify (here):
At least 60 hours of coach-specific training through an ACTP or ACSTH program. [The Maximum Coaching Certified Coach Education Programme has been approved by the ICF as delivering 60 ACSTH hours: Check us out on the ICF website, here.]
10 hours of Mentor Coaching over a minimum of three months to be documented on your online application. Your Mentor Coach must be an ACC who has completed a full cycle of the credential through renewal, PCC or MCC in good standing. [Elizabeth Crosse more than meets this requirement as an MCC of long standing. These ten hours are included in the fee for the Maximum Coaching Certified Coach Education Programme. The hours are to be used within 12 months of the end of the training.]
A minimum of 100 hours (75 paid) of coaching experience with at least eight clients following the start of your coach-specific training. At least 25 of these hours must occur within the 18 months prior to submitting the application for the credential. [We may be able to help you find clients in order to meet this requirement.]
Performance evaluation (audio recording and written transcript of a coach session to be uploaded with your application). [We'll give you some advice on this on the last day of module 4, and during your Mentor Coaching sessions.]
Completion of the Coach Knowledge Assessment (CKA) [This is an online multiple choice test, described here. We'll talk you through it in the final group Mentor Coaching session].
MAKING THE APPLICATION
On the online credential application, you will need to provide [answers in italics]:
The number of hours of coach-specific training that you completed: 60
The type of program (ACTP, ACSTH, CCE or non-accredited): ACSTH
The name of the organization that operated the program: Maximum Coaching
The name of each coach training program that you attended: Maximum Coaching Certified Coach Education Programme
You must submit proof of completion in the form of a certificate or signed letter issued by the program indicating the name of the program, dates of attendance, and total hours completed. [We give you the certificate at the end of the programme, provided of course that you have attended all the sessions. The ICF have a sample application on their website, here. They charge a fee of $300 for the credentialing process, which takes up to 14 weeks.]
ANY QUESTIONS?
Just give us a call on 01582 463461. We're here to help!
ILM 'top up'
Our programme, delivered by Rosanne Bernard, prepares you for the ICF Associate Certified Coach credential. But we also offer ILM coaching qualifications, in partnership with Charlie Warshawski of Love Your Coaching, an approved ILM centre. This means that we can offer participants in Rosanne's programme the opportunity to have a separate assessment with Charlie and thereby achieve the ILM Level 7 Certificate in Coaching and Mentoring without having to do any extra training days. We are the only provider offering this opportunity.
This is an accreditation-only pathway for the ILM qualification, only open to people who have been on the Maximum Coaching programme. The benchmark is that you are already coaching to a good enough standard to pass the ILM programme. This means that Love Your Coaching won't be assessing your coaching level, as they are confident in our rigorous process. You simply have to complete three assignments – an essay, a coaching log and a reflective piece on your coaching skills – to secure the nationally recognised ILM qualification while you carry on building up your hours for your ICF credential.
And the cost of the ILM Level 7 qualification when done this way? An additional £795 plus the ILM candidate fee (currently £193, which we administer on your behalf) plus VAT. You can sign up for the ILM 'top-up' at any stage – when you book on the Maximum Coaching programme or within 6 months of completing it.
The Maximum Coaching Certified Coach Education Programme gets great feedback. Give us a call on 01582 463461 to talk through how it might work for you.